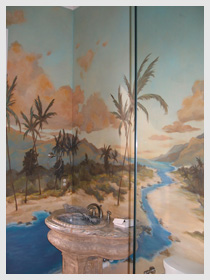 Established in 1997, Dogwood Studios paint original murals, decorative designs, and faux finishes for any location—private homes, offices, and public places. Headquartered in Atlanta, we serve clients throughout the metropolitan area and beyond with a portfolio that extends from New York to Miami.

Our artists, all traditionally trained, represent a broad range of backgrounds. A trait shared by each is a superior standard of quality and professionalism with a tremendous commitment and desire to please our clients. Our underlying objective always is to leave a beautiful signature that elevates the human spirit

No project is too grand for our artistry and technical capabilities. If it can be imagined, we can paint it.

We invite you to browse our galleries for a view of our portfolio. For personal service, please contact us.